I will record a male english voice over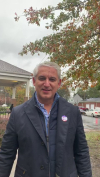 D_Holland
Account verified
0 orders in queue
1 day for delivery
Hi, I'm Mikel! I have been a professional musician for over 5 years! I have a nice male voice (I can send a demo on request). In terms of equipment, I use a Neuman TLM-103 microphone, a Focusrite interface, and record in my professional studio.
I do voice acting for:

🎵 Advertisements on radio and television
🎵 YouTube
🎵 Facebook
🎵 Kickstarter
🎵 IVR
🎵 Phone messages
🎵 And anything that requires a voice.
How to order gigs:
🎵 I'm going through the script and your directions to get an idea of ​​the tone you're looking for.
🎵 I record voice-overs in my professional studio.
🎵 I edit and master the sound.
🎵  I send you the finished audio file!
To get started with voice acting:
🎵 Enter the number of words in the Order Details field.
🎵 Add everything you need (rights, script proofreading, music, etc.)
🎵 Place an order.

If you are unsure or have any questions, please feel free to contact me.
You may also like
You may also like the following gigs